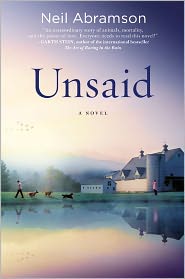 Unsaid by Neil Abramson Coming in August 2011
I must say I am really shocked at how much I truly enjoyed this book. Why am I shocked? Because I am a "happy-ending" sort of girl. I like to use books, movies, and television as mini escapes from the drama, tragedy, and conflict that often surround real life. So when I opened the book and the first line read, "Everything living dies. There's no stopping it." I thought, "I'm going to hate this book."
Let me introduce you to our main characters: David and Helena: Husband and wife duo who are a sort of yin and yang. David is a high-power attorney and Helena a gentle veterinarian. She keeps an array of animals at their farm house that David has little to do with since he spends so much time at work.
The story is narrated by a now deceased Helena. She is struggling to let go of some of her mistakes, and she lingers around the people and animals she loved trying to find closure. She chronicles the shattered lives of the husband, animals, and friends she left behind.
Throughout the story we see grief, shame, forgiveness, redemption, and most of all love. Rather than the depression and hopelessness that I expected to feel as I turned these pages I felt a great sense of peace. I'll be totally honest, I did cry, but only once! I would highly recommend this book to anyone!

*I received an uncorrected proof copy of this book for review purposes. However, I have not been compensated for my review and my opinions are 100% my own.