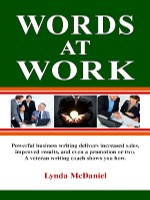 Being an English major, I was very excited to be given the opportunity to review Words @ Work by
Lynda McDaniel
. The back cover says -
"Words @ Work not only teaches you how to write in a concise, conversational style that people want to read - it helps you tap into your creativity, and there's no telling where that can lead."
I've taken a number of technical writing courses and this book was nothing like them. While the classes were full of grammatical ideas and formatting ideas, this book was full of practical ideas like starting your writing with a story, question, or an analogy and the less is more principle. Who ever thought that writing in more concise and simple words would actually be better writing? McDaniels explains how it is and how if you try to make your writing sound advanced and professional, you typically end up with something that nobody wants to take the time to read.
I think the best part of the book was that it's made me stop and think about my writing before I submit or send anything. And I'm trying to make my writing more useful and interesting to read. I don't know if it's working but at least it got me thinking.
I would recommend this book to anyone that writes anything. So really I'd recommend this book to anyone. This book can help anyone from the person that works in an office every day to the basic blog writer. Really. 3 out of 5 stars.